Rome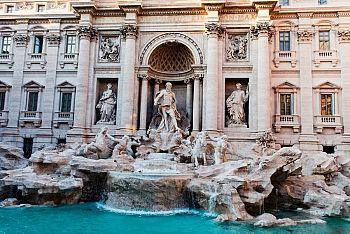 Our tour starts from piazza Navona which was an ancient stadium built by emperor Domitian to accomodate athletic games.
Now Piazza Navona is a baroque pearl. The fountain was sculpted by Gian Lorenzo Bernini, the church by Borromini and the nearby Palace - Palazzo Pamphili - has frescos painted by Cortona; everything has an ornamental style typical of the early 18th century characterized by curvilinear shapes, exuberant decoration, forms suggesting movement, and dramatic effect - baroque style.
From piazza Navona we take a walk up to the Pantheon, a Roman temple built for all greek gods, rebuilt at the time of Emperor Hadrian between 118-128 aD. The dome of the Pantheon is the largest in Europe, that one of Saint Peter's Basilica is the tallest . The great hole at the top of the dome is 9 feet in diameter and is the only source of light inside symbolizing the sun.
From Pantheon we stroll to Trevi Fountain, powered by an old Roman acqueduct. It is a gorgeous baroque fountain, you cannot miss it.
We can continue up to Spanish Steps - Piazza di Spagna - another baroque square with monumental stairway of 135 steps leading into the square t the top Trinità dei Monti with a visible 16th century church.